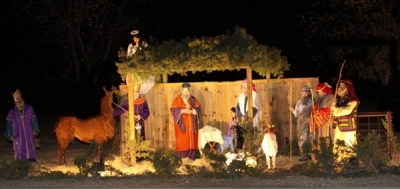 Each year First Christian Church of San Angelo presents a living nativity scene, complete with live animals, located at the end of the Tour of Lights at the south end of the Farmer's Market Pavilion on Oakes Street. This year, the live nativity scene will be presented on December 8th & 9th, and December 15th & 16th, 2017, from 6:00 to 10:00 p.m. each night. A silhouette scene is featured during remaining days in December.
Members of the community are invited to participate as almost 40 individuals are needed each evening to recreate the holy scene. Costumes will be provided along with a place to change. (Participants are encouraged to wear the costumes over their street clothes.)
To get involved, please call First Christian Church at (325) 653-4523.