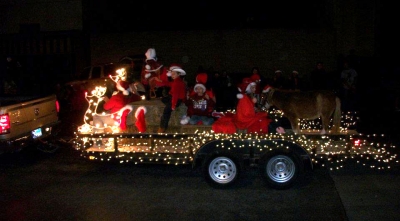 This year's "Lights of Christmas" parade will take place on Saturday, December 3rd at 6 p.m. in Downtown San Angelo. In the last parade, there were more than 100 floats and groups that took to the streets.
How to Enter a Float or Group
Everyone is invited to participate in this wonderful family entertainment event. Parade entrants may design an elaborate float, ride in a car, walk your dog, or ride a longhorn steer. There is just one rule that must be followed: your parade entry must be lighted. Also, please remember that this is a part of Concho Christmas Celebration, meant to be a fun time for children as well as adults. Please, no excessively loud music or inappropriate themes.
The parade is broadcast live on KCSA 97.1 FM and, this year, will also be shown live on KIDY2 (My San Angelo)(Channel 141 on cable) beginning at 6:00 p.m. There will also be a tape-delay broadcast December 3rd on KIDY FOX immediately following the Big 10 Championship Game (approximately 10:30 p.m.) The encore presentation of the parade will air on December 10th at 10:00 a. m. on KIDY2 (My San Angelo). It is important that you provide as much information as possible on your entry form so the parade emcees will be able to describe your entry to the listening/viewing audience.
A map of the parade route as well as information regarding line-up procedures will be forwarded to all entrants. Should you need additional information or have questions, please contact Suzanne McGee, parade chair at 325-650-1988 or 325-632-4421.
To enter complete the entry form
Mail form to:
Lights of Christmas Parade Chairman
P. O. Box 585, Mertzon, TX 76941
You may also fax your completed form to 325-658-1330
Completed entry forms are due November 25, 2016