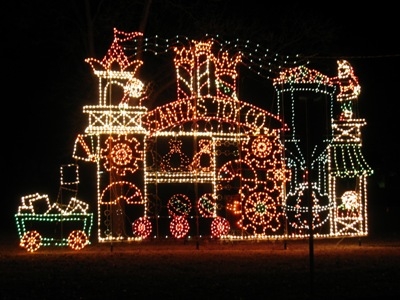 This year Concho Christmas Celebration proudly hosts the 21st Annual Tour of Lights. What began as a short walking tour of lights, in the El Paseo de Santa Angela area, has grown into a 2.5 mile drive along the banks of the Concho River with more than three million lights and fifty Christmas Greeting Cards. The lights depict The Twelve Days of Christmas, an elaborate nativity scene, Santa Claus and more!
The Tour of Lights opens Friday, December 4th, 2015, and continues every evening through December 31st. Cars enter at Bryant Blvd. South and Abe Street (the street north of the Main Post Office), and may drive through from 6:00 to 10:00 p.m. Sunday through Thursday, and from 6:00 p.m. to Midnight, Fridays and Saturdays. A donation of $5 per vehicle is suggested.
In 2015, Concho Christmas Celebration has added a new large light scene, the Candy Cane Castle, which is sure to delight, and a new directional sign for the Cartoons. The poinsettia plants display, located to the east of the Convention & Visitors Bureau building, remains one of the favorite light scenes. The poinsettias are a beautiful exhibit, and the hillside position allows each poinsettia to be installed at an angle, enhancing their three-dimensionality and giving them a life-like appearance.