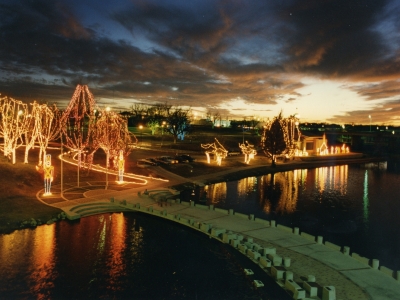 In 1994, a Christmas Lights Walking Tour was presented to the San Angelo community in the El Paseo de Santa Angela area featuring several minor lighted scenes. In 1995 twenty-one sponsor Christmas greeting cards were added. In 1996, the opportunity to expand the event developed with a new and permanent home along River Concho Drive. The tour thus evolved from a walking tour to a driving tour.
In 1997, the Concho Christmas Celebration Opening Ceremony took place at the Bill Aylor Sr. Memorial River Stage. The ceremony featured performances by the San Angelo Community Band and student choirs from the San Angelo Independent School District. The Concho Christmas Light Tour now displayed seven major and twelve minor lighted scenes, twenty-four lighted angels, forty-six lighted decorations, thirty-six sponsor Christmas cards and over two million lights. In 1998, community radio station KCSA-97.1 FM offered holiday music through a community radio station to enhance the experience of those driving through the tour.
The Concho Christmas Committee added new lighted scenes and accessories each year. "The Tunnel of Lights", one of the most dramatic Concho Christmas attractions, was completed in December 2001. Hirschfeld Steel designed and fabricated the hundred foot-long tunnel which continues to be a major signature feature.
Dubbed "Community Hosts," business and volunteer groups now became actively engaged in Concho Christmas Celebration. Throughout December, the hosts serve as greeters, passing out candy canes and collecting donations from guests.
2001 featured the first "Lights of Christmas Parade". To supplement the parade the Christmas Tree Lighting Ceremony moved from the River Stage to the corner of Chadbourne Street and Concho Avenue in 2004.
By 2006, "The Twelve Days of Christmas" was declared complete with the purchase of "Two Turtle Doves, Three French Hens, Nine Ladies Dancing, Eight Maids a Milking and the Twelve Drummers." Also in 2006, Concho Christmas joined forces with the San Angelo Lizards to offer a non-competitive run through the light display. The event gained popularity and was labeled "Run Rudolph Run."
Another partnership blossomed as First Christian Church offered a live nativity scene presentation during three weekends in 2007. During that same year, community radio station KCSA 95.7 FM, which had been airing holiday music, expanded into year-round programming (now KCSA 97.1 FM) broadcasting music of the 1950's as well as community concerts provided by the San Angelo Symphony and the Angelo State University Chorus.
Today, the Concho Christmas Tour of Lights is a 2.5-mile drive along the banks of the Concho River and lit by over three million lights. Visitors remark that lights reflecting on the river appear to duplicate the amazing displays.
Presently, Concho Christmas Celebration has become a cherished tradition with locals and visitors alike.